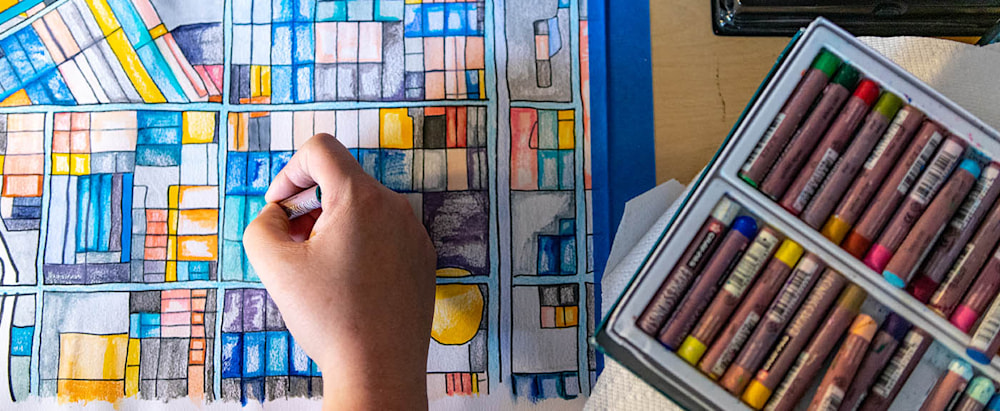 Fascinated by aerial views of the world around her, Jennifer Carland works with mixed media to create abstracted versions of city maps. Her artwork illustrates local neighborhoods as well as broad city views of various places in the world. 
Jenn's goal is to make illustrated reminders of the places people identify with, such as the town they lived in as a child, or the place where they got married. She believes that location is what binds all of our experiences together because everyone loves to talk about where they live, where they have visited, and where they want to go next. By changing the purpose of a map from utilitarian to conceptual, she intends to make the viewer think about their own place in relation to what is around them and appreciate the beauty in both built and natural environments.
In this interview, we join Jenn in her studio to discuss her creative process and learn more about her artistic career.
Can you tell us about your journey to become a professional artist?
I finished my MFA right as the economy crashed, so I went back to school to study Urban Planning. The classes I took fueled my imagination and I began to draw the neighborhoods I was familiar with. It felt natural to combine my training as an artist with my interest in the built environment. I originally launched my current website, Carland Cartography, as an Etsy shop back in 2012 when I started drawing local neighborhoods out of my small Boston apartment. Since then, I have continued to develop my work by creating artwork illustrating several other cities. My work has grown with me as life has changed. When I first started drawing my Boston Neighborhoods Series, I didn't anticipate creating several bodies of work, but the more I drew, the more series I wanted to make.
How would you describe your work?
My work is a combination of drawing and painting. All of my pieces start the same way, by studying the atlas! I use printed atlases, maps, satellite imagery and other sources to plan the area that I want to portray. This process is the first phase of creating a base drawing which will be used as the foundation for the composition. Most of the time, my work is created in collections. I have a Boston Neighborhood Series, which showcases many local areas. I have a Cycling Series, which is based on the most popular cycling cities in the USA and I am currently working on a Chicago Neighborhood Series now that I am living out here.
I love using oil pastels, markers, and watercolor. Some pieces are layered by scanning in and manipulating several individual drawings for a layered effect. However, recently, I have been experimenting with combining different media all on the same surface to achieve a layered result without having to digitally merge the drawings. Either way, I love playing with line, texture, and color.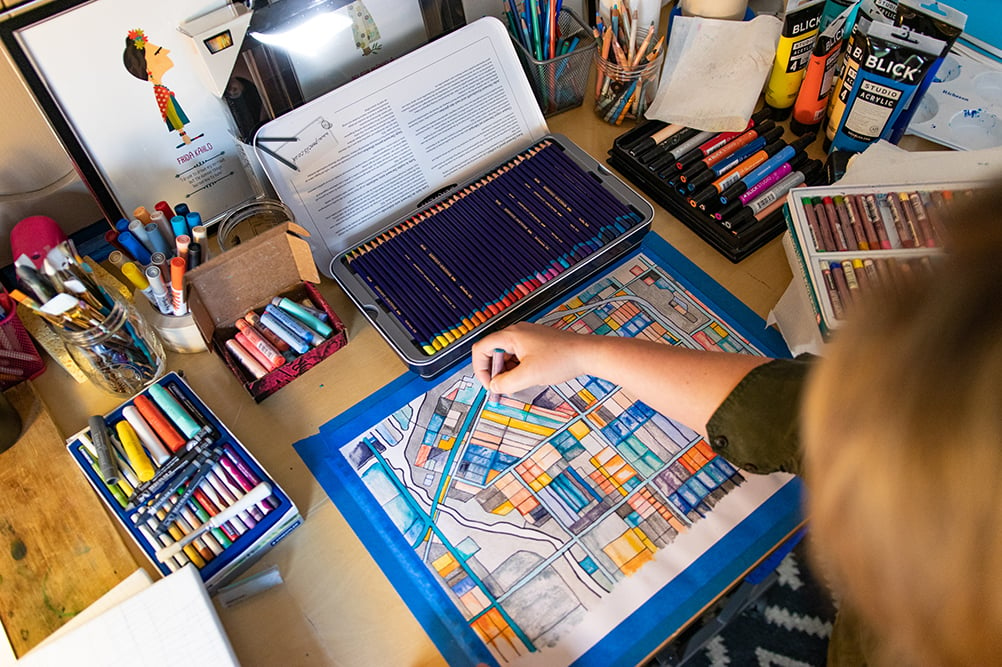 When looking for inspiration, what resources do you turn to?
Traveling, being outside, walking around urban areas, and looking at streets help inspire me. For most of my work, the color choices in the work are based upon a personal experience in the location portrayed. For example, the pink tones in my WASHINGTON DC piece are inspired by the Cherry Blossom Festival and the yellow and blue tones in the CHICAGO piece are inspired by the neon lights of the billboards against the night sky. Inspiration comes in various forms and I try to channel my inspiration from real-life experiences into my work as much as possible.
Walk us through a typical day in your studio. What is your routine?
I recently moved from Massachusetts to Chicago, and my current studio is in the attic of my house. I am not a morning person, but since the windows in my studio face east, it's great to work there in the morning due to the abundance of natural light. I usually work in batches, meaning I have somewhere between 3-10 pieces in various stages of completion. Because a lot of my work requires long drying times between layers, I need to have multiple projects going at the same time so I can stay motivated.
For emerging artists, finding the right rhythm to be productive in the studio can be a challenge, what advice do you have for staying productive and focused?
I think the key to staying motivated is knowing what drives you, and what natural rhythms make sense. Each person has a different internal clock, and being self-aware of what time of day is best, how to block distractions, and stay motivated is such a personal challenge. I would recommend listening to your internal voice. If you feel inspired, get to work! If you can't work right in that moment, keep a notebook and write down your ideas and save them for later.  Above all else, hold yourself accountable and set deadlines for yourself, critique your ideas, streamline your processes, and never ever work if you're in a bad mood because that negative energy can be transferred into your artwork.
What is your advice for combating creative block?
Whenever I feel stuck, I avoid working in the studio completely. I work in the garden, make creative meals, build something around the house, or go on a trip. I don't push myself to get un-blocked because eventually it will happen. You have to trust the process – sometimes, you have to take a break and recharge yourself in other ways. Once again, I think it has to do with knowing yourself. If you are the type of person who gets inspired from internal/introverted activities, read a book or watch visually exciting films. If you are inspired by external/extroverted activities, go to the market, visit museums, or go to a concert. It all boils down to doing things that are inspiring, but not directly related to your work.
As an artist, how do you measure your success?
I remember my very first art fair. I was still in school, studying urban planning, and I set up a small stand at a local holiday art market. My prints were unmated, plain paper, just sitting on a table and I almost sold out! I was so excited I remember calling my dad and almost crying over the couple hundred dollars I just made. Although it wasn't a huge success in a financial way, it was a game changer for me. I realized I could make something that appealed to people, and that entrepreneurial experience made me want to work for myself.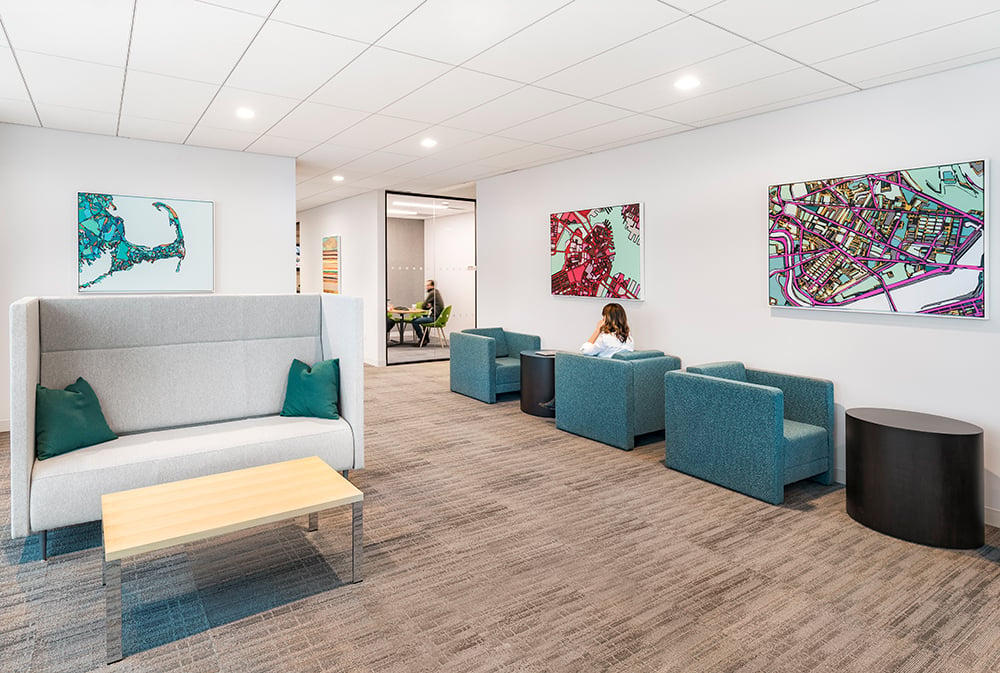 What advice do you have for artists who are beginning to build their career? Have there been any habits or strategies that you have adopted that you feel have created more opportunity or visibility for your work?
I think one of the things that's important to do is to define your own values. What I mean is, decide what four to six things are important to you. Is it being represented by a gallery? Is it having your own storefront? Is it being part of a design firm? Do you want a steady paycheck or are you ok with ups and downs? Is it working in an urban setting or a rural one? Do you want to sell at artist markets? Do you want to sell wholesale to brick and mortar stores? Do you want to have an online shop? Every artist that I know who has made a decent living for themselves has set some boundaries. They don't try to do it all. They think strategically about what things they are good at, and work with their own natural talents. If you set some big overarching goals, and define what you are willing to do, and maybe not-so-willing to do, it helps guide you in the right direction.
Do you consider yourself, and all artists, to be entrepreneurs?
That's a tough question, because I don't think all artists are making artwork for the purpose of making money. It's wonderful when those two things coincide, but that's not always the case or even the desired outcome. I considered myself to be an artist way before I decided I was ready to sell my work. Even now, I have periods when sales are low or I'm not making a big effort at marketing my work. So, I'd be considered a pretty bad entrepreneur in the traditional sense. But, I'm still an artist. So, no, I don't think being an artist automatically makes you an entrepreneur. Being an entrepreneur is a decision to do a job. Being an artist is a compulsion or desire to make something.
 Failure is an inevitable part of success in any field. Do you have advice for overcoming setbacks?
Failure is hard. We have all been there. My best advice is to know that the feeling of failure usually comes when you don't measure up to the pressures of society's expectations. But, if you can stay strong and keep going, eventually the feeling of failure will go away. Pay attention to what went wrong, keep your head up, and listen to your own voice. Soon you will do something else that's a success, and the failure won't sting as much. Life keeps going. Shit happens. In my opinion, the only real failure as an artist is failing to make work if you feel compelled to do so.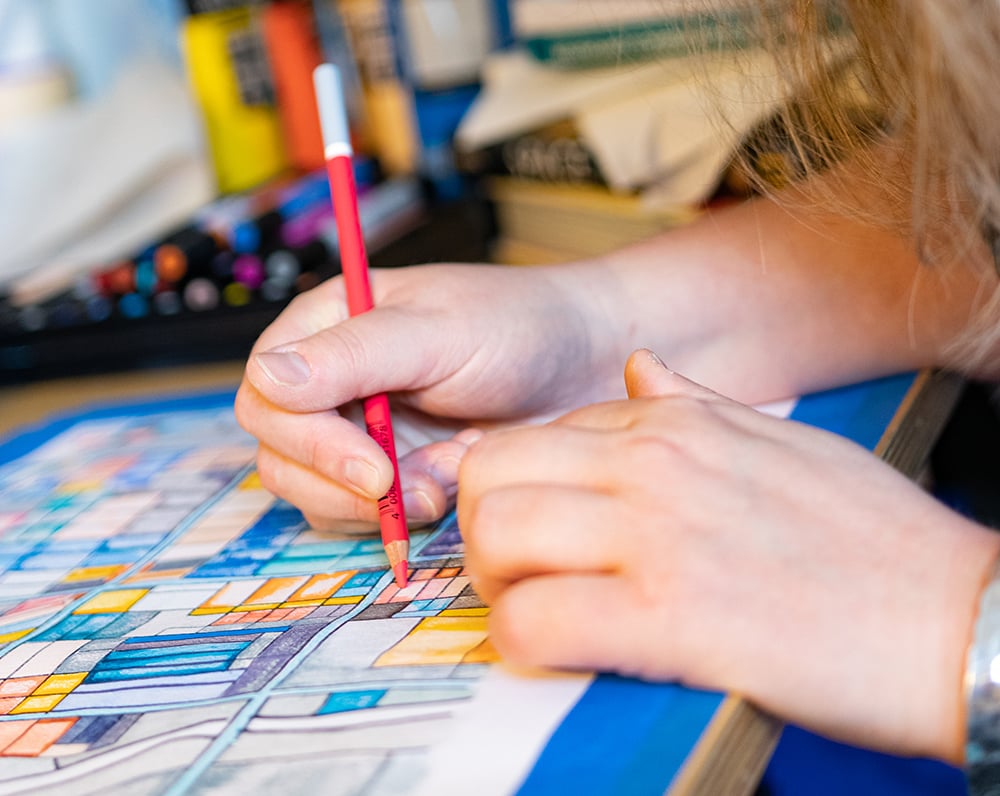 What sparked your interest in partnering with TurningArt? Has your experience with TurningArt differed from other art companies you have worked with?
I was approached by a representative at TurningArt several years ago, when they were just starting out. I liked their concept and signed up. Soon after signing up, I participated in one of their live events in Kendall Square and it was so inspiring to meet other people involved with the company and to see the wide range of artwork represented by the TurningArt community. Living in Boston gave me access to the company early on, and I feel like they really care about their artists and they always try to find more opportunities for us to show our work. It's truly a partnership, and I feel honored to be part of such a great network of artists and art-lovers.
What does having your artwork in the workplace and other commercial or public spaces mean to you?
Working with TurningArt has been amazing because they have been able to find opportunities in corporate environments that I just don't have access to. My work has been shown in several office buildings and it's so exciting to see my pieces in such a public space. It's wonderful because I strongly believe artwork should be shown, not just kept by the few who can afford to be collectors. Seeing my work in public spaces where it's enjoyed by so many on a daily basis is really rewarding. The team at TurningArt has been great to work with and has helped me grow in ways I didn't anticipate when I was first approached by them several years ago.
To see more featured TurningArtists, RETURN TO OUR BLOG. To get Jennifer Carland's art in your space, set up a free consultation with an Art Advisor HERE!