Shop Merchandise
More than Just Wall Art.
We have partnered with RedBubble and Vida by licensing our work on a limited range of products for your home and wardrobe. Some of the designs are cropped and abstracted so that even if you don't have a connected to the location on the map, you can still get excited about the design.
Click on any item below to be taken to our RedBubble shop (third-party site).
Website Problem: If you are shopping on your mobile phone , click the line under the image to be taken to the shopping page. There is a glitch in the site.

Accessories:
Home Decor:
Baby and Kids: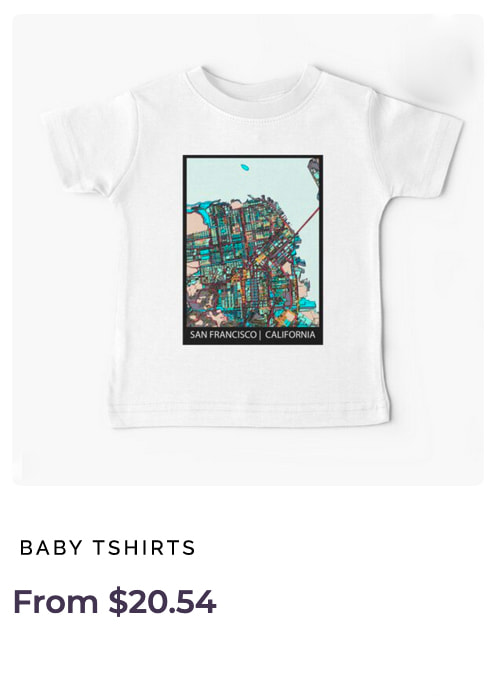 Womens Clothing: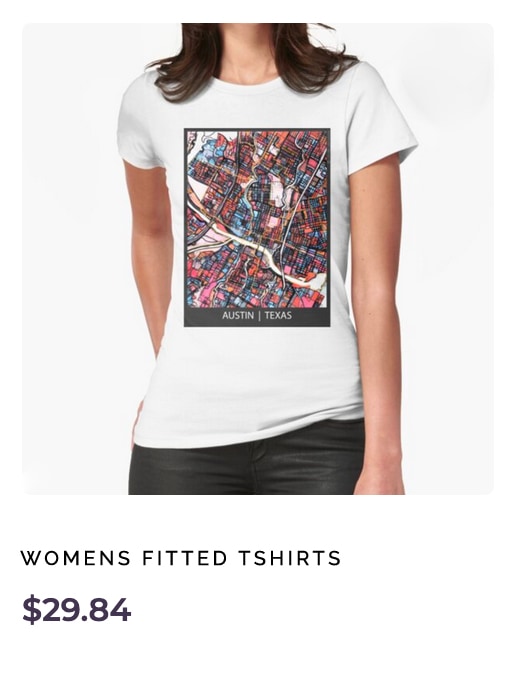 Mens Clothing:
Please keep in mind, RedBubble is a third-party site and is not managed by Carland Cartography. We cannot help you with your order, or with product questions. For all inquiries about order status, merchandise descriptions, shipping, or any other customer service concern, please click here. 
Premium Merchandise
Looking for something a little extra?
We have partnered with Vida Studio to license a limited number of our designs on various premium items. Proceeds of every purchase go towards various social impact programs, such as: Basic Literacy, Financial Literacy and Women's Rights.
The patterns have been enhanced so that even if you don't have ties to the city portrayed in the original drawing, you can still have a unique item that will make you feel beautiful.

Click on any item below to be taken to our Vida Studio shop (third-party site). These items are made to order and typically have a 3- week lead time.

Beach Vibes Series - No stress here - show off your tan with this bright colorful print that is inspired by lazy days on the beach.  
---
BOHO Beach Series - Upgrade your bungalow with deeply saturated colors of this series. Inspired by the laid back lifestyle, these items let you feel free and happy . 
---
Carnival Collection - A carnival of color for you because beige is boring - Live on the wild side with these fun stripes.   
City Twilight Series - Remember that magical time between daylight and evening with this  colorful representation of a vibrant twilight. 
---
Coastal Dreams Series - Capture some of that coastal charm with this series that echoes the blues and grays of the ocean .  
---
Cool City Nights Series - The blues and reds of the evening sky and the lights of the city bouncing off the streets. capture the city's vibe. Click for more 
---
Exotic Adventures Series - Flashback to that amazing dinner or that secret club you discovered after a night of dancing.  
---
Fireworks Collection - Celebrate your city with this explosive pattern that will light up any room 
---
First Signs of Fall Series  - As the fall colors start to creep in, add some of the season's colors t your ensemble with these items. Inspired by the changing of the seasons, this color combination will look great on you.
---
First Warm Day Series - Let the light in! When there is still snow still on the ground, but you know its melting, this is the perfect way to celebrate that transition. 
---
Frosty Shimmer Collection - When the sun is so bright, its reflecting off the snow outside....these pieces are perfect for the brightest of winter days.
---
 High Energy Series - Jumpstart your morning routine with this energetic geometric pattern. Let the blue and orange revitalize you.

---
In Full Bloom Series  - The full blooms of summer are so lush and intoxicating. Much like you, this series is vibrant and full of personality. Show off your style with one of these items
---
Late Summer Swim Series- Inspired by the last swim of the season, when you can see the orange and red sneaking into the tips of the leaves.
---
Pacific Night Sky Series - This series will make you feel like you're under the stars. Bring some of the night sky into your life with this series.  
---
Rush Hour Collection - Love the hustle and bustle of the city? This series was inspired by the lights from cars reflecting off the city streets.
---
Signs of Spring Series  - Change up your style with this series inspired by the rainy season of spring. The refreshing blues and greens will add a bit of pop to your outfit.   
---
Snow Covered City Series  - The icy cool blues of winter are represented in this series. These items will add a touch of excitement to your wardrobe.
---
Sounds of the City Series  - Add this vibrant pattern to your home and turn up the heat (and the music) Click for more 
---
Southwest Sunset Series - You can bring the colors of a Southwest Sunset into your home which will compliment your modern rustic style. C
---
Spring In The City Series  - Transform your look with this series of items inspired by fresh green plants. The bright green will put a smile on your face and remind you of spring.
---
Street Festival Series  - Update your look with this selection of pieces inspired by the neighborhood block parties and city festivals. This unique color combination will add some zest to your life.
---
Street Sweeps Series - This colorful pattern with bold sweeps of color embodies power and assertiveness. Make your statement with these vibrant pieces.  
---
Summer Sunset Collection - Feel the heat, drink in the colors cascading across the sky. Remember this moment with our selection of options below. Keep a piece of summer with you all year long. 
---
Tranquil Mist Series  - Transform your space into a tranquil haven - These items will make you feel calm and peaceful.  
Urban Garden Series - Inspired by pink blossoms in an urban garden, this mix of pink and gray captures the relationship between nature's blooms and the concrete jungle. 
---
Vibrant Garden Series  - Bring some colors of fresh flowers into your life with this bright selection of items. Sure to get some attention, this fun series is a perfect way to show off your sense of style.
---
Winter Morning Series - Feel the warmth through the windows on a cold winter day. 
---
Please keep in mind, Vida is a third-party site and is not managed by Carland Cartography. We cannot help you with your order, or with product questions. All merchandise or order-related questions should be sent to hi@shopvida.com
I am an affiliate partner with the company Vida Studio, which is headquartered in San Francisco, CA.  That means I am granted the rights to promote their products as a way of reaching new audiences and sharing information about the company to customers who are looking for high-quality merchandise. In return for promoting their products, Vida offers me discounts on future orders and a small commission to help my business grow. While I have only used this company for a few months, I have been pleasantly surprised by the quality of the products and only endorse/support companies I truly believe in.