Local artist Jennifer Carland, operator of Carland Cartography (whose studio is located in Western Avenue Studios), will have a storefront in the popular urban shopping center Mill No 5 during the month of December.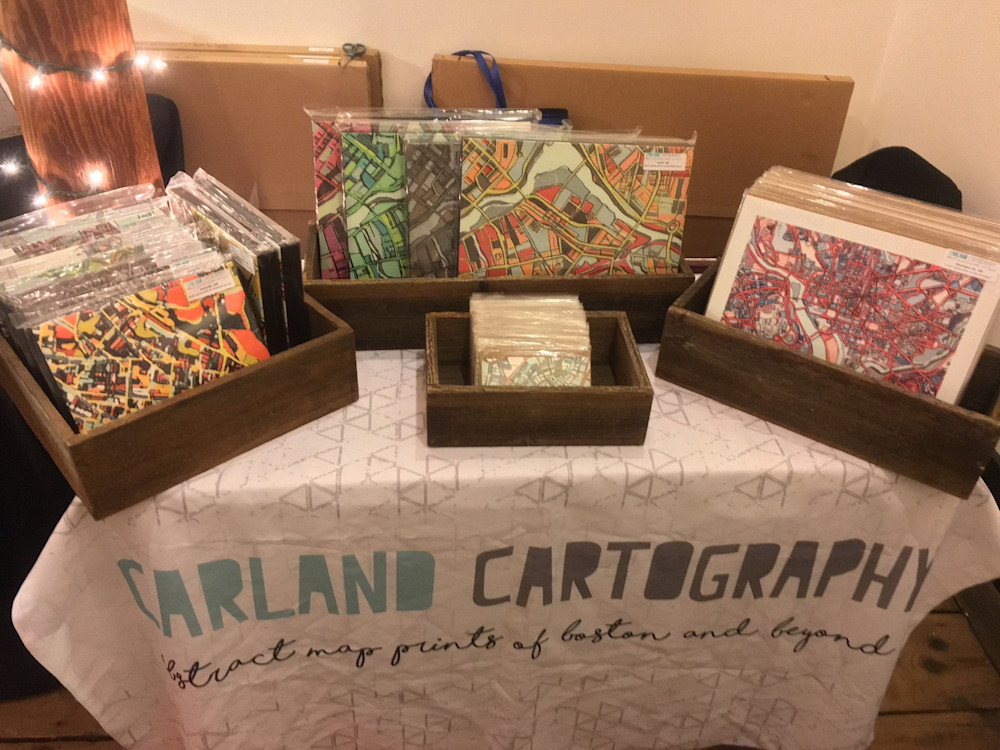 Carland Cartography is a luxury retailer of fine art prints showing abstracted street maps, illustrating individual neighborhoods as well as broad city views of various places in the world. Jennifer's work has been sold at several regional artist markets, exhibited in local galleries, such as unchARTed Gallery on Market Street and Copley Society of Art on Newbury Street in Boston, as well as featured on the Netflix Original Series Friends From College and purchased by corporate clients for office spaces at a national level.
"We create visual biographies for our customers. Maps are tangible representations of the locations where we spend our lives. We provide an illustrated reminder of the location you call "home", the place where you fell in love, the town where you went to college, the spot where you spent every summer vacation, plus much more. Let us help you remember the important places in your life." says Jennifer Carland, local artist and operator of Carland Cartography.
The Mill No 5 building is located at 250 Jackson Street in Lowell. The 4th and 5th floors of the mill have been renovated into an urban shopping experience and have a variety of retailers housed inside. The storefront that Carland Cartography will be using for their pop-up shop will be on the 4th floor of the mill, between the retailers Red Antler and Bon Vivant. Carland Cartography will be selling a selection of abstracted map prints on both paper and canvas in a variety of sizes, which range in price from $26-$500.
The pop-up shop will be open on the following days/times:
·       Friday, December 8- Open from 5-8pm
·       Saturday, December 9 – open from 10am-8pm
·       Sunday, December 10 – open from 11am-5pm
·       Thursday, December 14 – Open from 5-8pm
·       Friday, December 15- Open from 5-8pm
·       Saturday, December 16– open from 10am-8pm
·       Sunday, December 17 – open from 11am-5pm
For more information on Carland Cartography, please visit https://www.carlandcartography.com/
For more information on Mill No 5, please visit http://millno5.com/